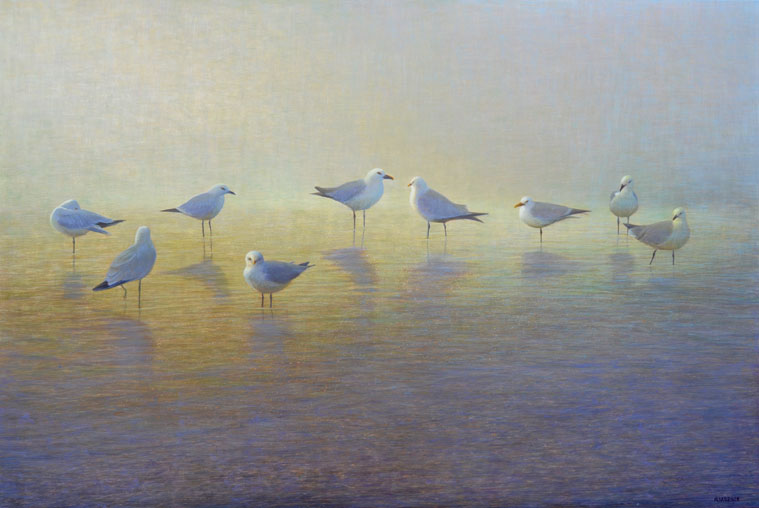 The Fellowship of the American Society of Marine Artists (ASMA) has
elected Florida native and Ormond Beach artist Daniel Ambrose as a
Signature Member.

President Nicolas Fox welcomed the well-known oils and egg tempera
painter with great pleasure "into the ranks and hope you will enjoy the
company... and draw strength from having joined a Society which stands
in high regard among galleries, museums and collectors."

ASMA is the nation's oldest and largest nonprofit organization dedicated
to marine art and history.
The Society is devoted to scholarly and cultural purposes. Those who
founded the Society more than 40 years ago were looking for mutual
support and companionship, to enhance public awareness of the genre, and
to encourage the work of newcomers to the field.

The Society maintains a registry for artists, holds exhibits and
promotes the study and improvement of American marine art. Signature
Members are required to submit work to every ASMA National Exhibition,
which take place approximately every three years and travel to a handful
of prestigious American museums.

Ambrose's landscape paintings capture the environmental treasures unique
to the South and are renowned for their extraordinary luminosity and
remarkable power to evoke a spiritual sense of place. His focus is often
coastal landscapes and the birds that live there. Represented by a
number of galleries ranging from Florida to Maine, his professional
career spans more than 30 years. His work can be found in a number of
museum, corporate and private collections across the country.

Ambrose is also a founding member of the esteemed American Tonalist
Society, which held its Inaugural Exhibition, Shades of Gray, at the
historic Salmagundi Club in New York City in May 2019.

For more information on Daniel Ambrose and his work, visit
danielambrose.com.